MMT: Modern Monetary Theory, or Magical Mortgage Tease?
Originally posted on December 03, 2019 12:47 pm
Updated on December 05, 2019 10:38 am
For almost 10 years now, experts everywhere have called for rising mortgage rates. Shortly after the financial crisis, everyone everywhere felt bad about buying anything. But as we bounced from the March 2009 lows, slowly the financial gears began ticking again and risk appetite came back.
In the real estate world, some markets recovered much more slowly than others. California and NYC were among the first to stage a comeback, while parts of Seattle and Las Vegas continued to bottom through 2011. The entire time, experts everywhere gave all kinds of excuses why mortgage rates would rise, and very soon!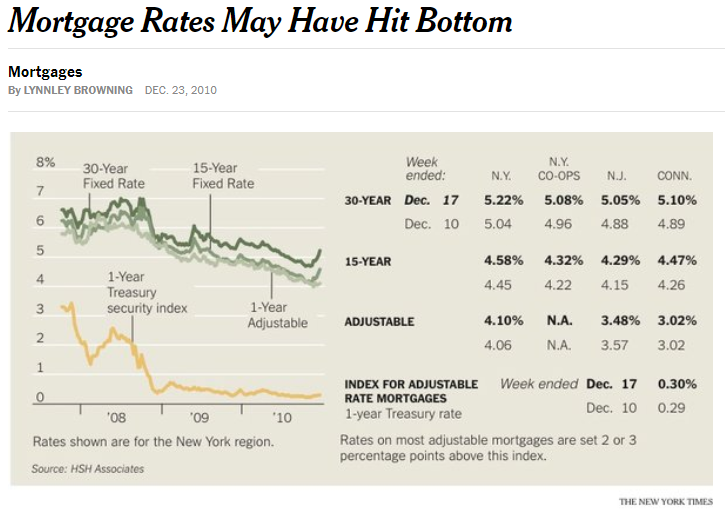 Dec 2010, NY Times
"The Mortgage Bankers' Association, a trade group, predicts that 30-year fixed rates will inch up to 5.1 percent by the end of 2011 and reach 5.7 percent in 2012." How has that gone? Turns out 3 years later, rates were still below 4.0% and stayed there all the way through Trump's 2016 election.

Benchmark 30-year mortgage rates
After more false starts, does anyone expect to go back to the days where 6% mortgage rates seemed like a good deal? And what does that mean for real estate investors searching for good yields? Cap rates for Manhattan condos still average less than 3% (and that's on the high end). Condo prices are also flat or dropping. You would get a better deal in many other asset classes, or real estate in other markets.
As we approach 2020, real estate investors seem to be taking a wait-and-see approach. The real winners are those who already own properties and have enjoyed favorable refinancing rates. For example, anyone on a 5/1 ARM set to reset soon will be delighted at the newer low interest rate levels.
As for the Federal Reserve hiking rates, Wall Street isn't betting on it. New trade war tensions have shaken markets off their all-time highs, with the president now hinting the trade deal might not come until after the 2020 election!