Make Renting Great Again
Originally posted on December 23, 2019 4:08 am
Updated on January 02, 2020 9:55 am
None of us on Team RentHop are particularly political. We follow politics when things are interesting. Plus, the real estate industry will always be impacted by political agendas from all sides. But when it comes to red versus blue, we tend to be accepting of all view points.
What Were Those Banner Ads?
That said, we made some mistakes with our previous marketing campaigns. In Summer 2016, we had a chance to take a last minute, deeply discounted spot on the subway ads. There wasn't enough time to really design a full array of banners, nor did we have much of a campaign idea prepared. We had about a week to submit a creative to Outfront Media, so we did!
Earned Media
We really weren't sure what to expect with NYC subway ads. Everyone sees them of course. But do they actually create brand awareness? And is that what our business needs? Business Schools spend entire courses on marketing theory, and many case studies have been done on the Caspers of the world, launching from obscure to small-talk within one solid ad campaign.
One concept from the marketing geniuses is "earned media." It's the marketing done for you by reporters and press because of whatever else you are doing. And to make it more circular, we paid for marketing, hoping to get brand awareness directly, but also from the follow-on impact if what we did was peculiar enough to gain said earned media.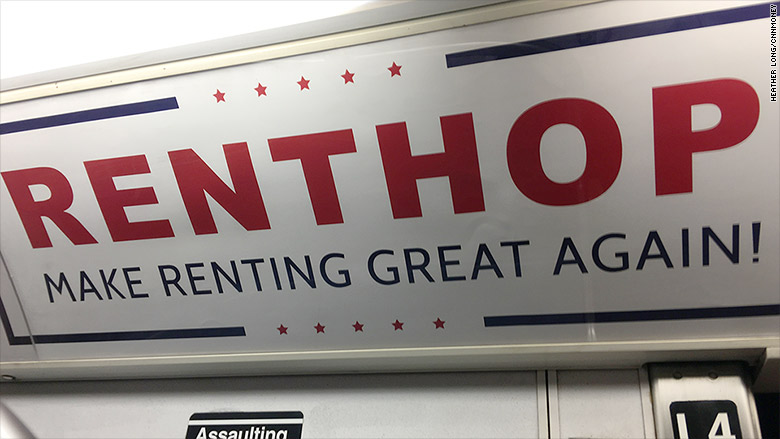 The end result, news outlets such as CNN and Boston.com included us in news articles about how then candidate Trump was impacting company advertisements (Manhattan Mini-Storage jumped in on as well).
The Brand Image We Want
Unfortunately, we can fast forward 3 years into one of the most polarized political climates in our country's history. As our team discusses our marketing plans for 2020, the only thing we can promise is a full refresh, without any references to the DJT.