RentHop's Apartment Wishlist - Kitchen Essentials
Posted on May 18, 2017 12:12 pm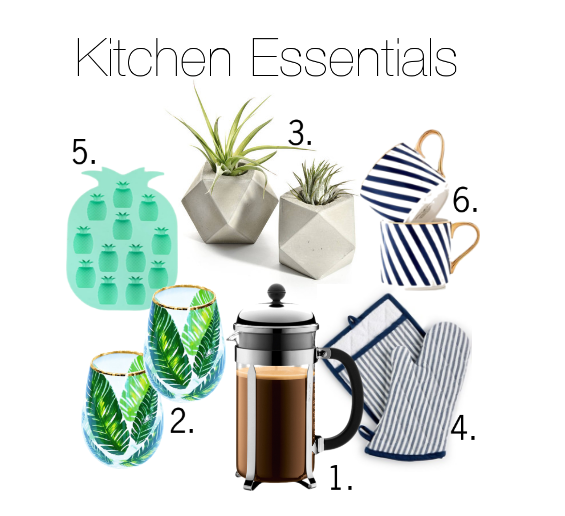 Every week there's certain things we would love to have in our apartments. Somethings might be way out of our price range but one can dream right? If we can't purchase it, we can still get inspired by it. And then there's things we totally can afford, and we love it. This week our focus is on these 6 kitchen essentials!  
1. Bodum Chambord 8 Cup Coffee Maker – Coggles.com
We need a new coffee maker that can easily come with us to the office, when going on vacation, and it would look good at home. The Bodum Chambord 8 cup coffee maker is perfect. Price tag: $50
2. Palm Print Stemless Wine Glass – Hattanhome.com
We're being blessed with great weather here in New York right now and there's nothing we want more than than relax in our apartments with a cold glass of white wine. These stemless wine glasses would be perfect for the Summer when a girlfriend comes over! Price tag: $14 for one.
3. Pasinga Concrete Cuboctahedron Air Plant Holder – Notonthehighstreet.com
We've been looking for a couple of small plant holders to have in the kitchen and these would be perfect. They don't take up too much space for those with a smaller kitchen as well (which is pretty much all of us, right?). Price tag: $21
4. Martha Stewart Collection Striped Oven Mitt & Pot Holder Set – Macys.com
Usually shopping things for the apartment is fun right? However, the most boring thing to buy for your apartment might be pot holders and oven mitts. Obviously, you can always go for the more fun ones with colorful designs but we like our pot holders and oven mitts more toned down. That's why these from the Martha Stewart Collection are the perfect match. Price Tag: $34
5. True Brands Pineapple Ice Cube Tray By – Domino
This one will go well with the stemless wine glasses that we mentioned earlier. Pineapple ice cubes in our lemonade, or in your wine to keep it cold? Yes please. Price tag: $8.49
6. Mark & Graham Ceramic Mugs, Set of 2, Navy Stripe – Markandgraham.com
Cute, cute, cute! These would be a great addition to the long line of coffee cups we already have! Price tag: $35