Rent Hop News
Posted in
Rent Hop News
on September 27th, 2012 by kat –
Comments Off
Posted in
Apartment Hunting
,
Rent Hop News
on August 8th, 2012 by kat –
Comments Off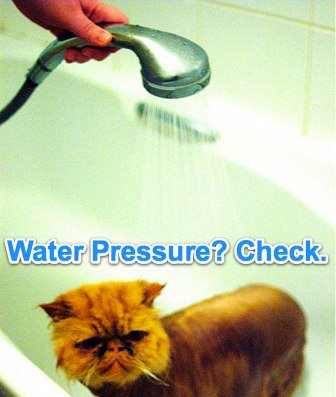 We gave Boston.com some advice on the apartment hunting process. Check the piece out here!
"When it comes to apartment hunting, most people have a checklist of items that their future living quarters must entail. Two bedrooms? Check. One bath? Check. Proximity to public transportation? Check. But there are many more subtle features that often get overlooked, but can be just as important once the renter gets settled into his/her new digs.

Lee Lin, CEO of RentHop, the smarter apartment search marketplace, offered advice of other apartment "essentials" to look for." Read more…
Posted in
Rent Hop News
on June 26th, 2012 by kat –
Be the first to comment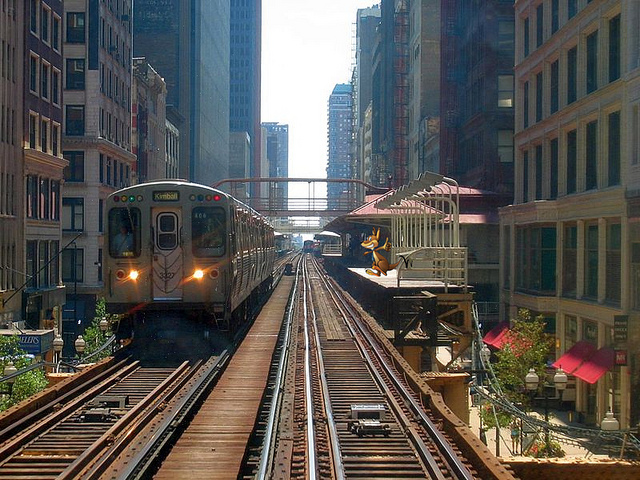 Bulls, Bears, Fans of
Ferris Bueller
,
We'd like to announce that RentHop is officially launching in
Chicago
 today!
Nice to meet you, Windy City Hoppers. We already know what makes Chicago great (Wieners Circle, the Art Institute, ChicAGoGo), but here's a little bit about what makes us special. RentHop doesn't just sort your searches by price or posting date. We sort by
quality.
We rank apartment listings using the HopScore, which is powered by set of sophisticated algorithms that our geeky founders cooked up. What goes into the HopScore, you ask? Here's a quick look:
(Publicly available) Info that helps us gauge the quality, timeliness and completeness of the listing (you wouldn't want to look at a listing without photos, right?).
+

The internal track record of the listing within RentHop (price drops, how many inquiries an apartment has received, etc.).

+

The previous behavior of the broker or landlord offering the apartment (how quickly they respond to your inquiries, for example!).

+
For our Chicago launch, we've taken the 3 years of data we've gleaned from NYC and partnered with fellow Y Combinator backed company
YouGotListings
 to help seed and calibrate the initial scoring. But over time, the site will train and adapt based on usage patterns specific to Chicago searches.
Oh, and as always, RentHop is free for apartment hunters, and for a limited time, managers joining in Chicago and Boston will earn a free lifetime basic membership.
Comment here if you have questions, or tell us how we can best help you find the most awesome apartments in the Windy City.
The RentHop Team
Posted in
Rent Hop News
on May 14th, 2011 by Lee –
Be the first to comment
Congratulations to Guillaume Derouet for posting our one millionth New York City rental listing!
http://www.renthop.com/listings/waverly_ave/_/1000000
We actually didn't expect to cross the mark until near the end of the month, but the renter AND landlord activity has been growing at a break-neck pace.  Keep of the good work everyone; I'm so glad the community continues to thrive and evolve.
Many of you have also noticed the recent design changes that Lawrence has implemented, both in the landlord dashboard and the main list-based apartment search.  However, one of my favorite changes has been the new and streamlined NYC apartment map search.  When we first began, three years ago, the map page was our original and only search mode!  Back in the day we plotted every listing in Manhattan on the Google map, using some clever JS hackery to keep the performance acceptable while juggling thousands of listings.  As we've grown, however, we realized that renters tend not to want to see every possible listing.  It's much more important just to see the high quality, highly relevant posts.   Now, for the first time ever on RentHop, we've fully integrated our trust score and search rank algorithms alongside the location-based filtering.
Posted in
Rent Hop News
on May 5th, 2011 by Lee –
Be the first to comment
Within the next few days, we are expecting to reach our one millionth NYC apartment listing ever posted on RentHop.com!  If you are the lucky landlord or broker to hit the big million, then let us know and we'll gift you 1,000 free RentHop credits for posting on CraigsList, buying featured listings, or many of the our premium features in our landlord dashboard.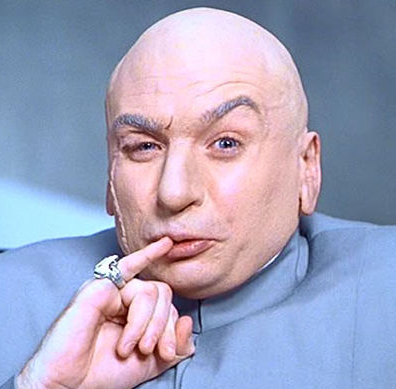 Posted in
Rent Hop News
on December 26th, 2010 by Lee –
Be the first to comment
Best location in Forest Hills – Size Matters
Apartment 2K– Fully Renovated 1BR with private balcony * 875 SF * $1900
Our Largest One Bedroom, kitchen features granite countertops and stainless steel appliances, marble bathroom with hand carved vanity. FLOOR PLAN
Apartment 6W – Corner Two Bedroom with private balcony * 1033 SF * $2050
Gigantic Two Bedroom Apartment, corner private unit, new wood flooring throughout, large living room, abundant closet space. FLOOR PLAN
Apartment 16V – Fully Renovated 3BR with private balcony * 1327 SF * $3000
Fabulous Three Bedroom featuring kitchen with granite countertops and stainless steel appliances, two marble bathrooms with hand carved vanities, huge private balcony, and great views. FLOOR PLAN
Call us today for the latest updates of our new listings.  888-256-0135
Email me, Shari Forrest, directly with any questions HERE
We are happy to give broker preview tours.
104-20 Queens Boulevard
Close to transportation: E, F, M and R Subway Lines and LIRR
Our Web Site
Leasing office hours:
Monday through Thursday from 10-7
Friday from 10-6
Saturday/Sunday from 11-5
Posted in
Rent Hop News
on December 4th, 2010 by Lee –
Be the first to comment
For those who do consulting work, a once counter-intuitive secret is now common knowledge:  accepting a lower hourly rate often means having a more demanding, more obnoxiously clueless, and more frustrating client.  The theory is the lower paying clients don't know the value of high quality work, or are generally on a lower budget and need to try and squeeze the most value out of their dollar.      We don't blame them; these clients can be good career starting points, plus we appreciate life much more once we graduate to better opportunities.  An established freelancer has plenty of clients knocking at his door, so the easy filter is sticking to a higher rate and avoiding all the charity work in the lower rungs.
For anyone wondering about hard numbers, looking for coding work contracted for less than $60 an hour in the US is the equivalent to searching for a rent controlled apartment.  It will be tough to find and will certainly be full of deficiencies, but sometimes you have no choice.  As the client, you expect and accept the problems and look forward to upgrading when your situation improves.
Real estate professionals unfortunately don't have as direct a way to raise their consulting rates.   I know there are skeptics, but it's true; excellent brokers do exist and there is enormous variation in skill between the great ones, the average, and the terrible.  If you've never met a value-adding broker, then it's because you are the client who wants a programmer at $10 an hour.  I'll explain shortly.
Say I've got 5 clients who all want me to show apartments this weekend.  Three want studios under $1800 a month, one wants a 1BR in Brooklyn, and the last one wants a 2BR in Financial District, preferring a luxury high rise.   Well that's obvious, right?  Unless one of the clients is a solid word-of-mouth referral, I need to guess that all 5 will convert at the same rate, but as a broker I get about $1800 on the studio guys, I probably can't convert Brooklyn because I've never bothered to preview there, but I've got a slew of OP luxury highrises in FiDi that pay $4500 on conversion.  While I'm there, I learn more and more about the other luxury high rises so I'll be more prepared for the next set of 2BR Wall Street roommates.  By corollary, I becoming more clueless about Brooklyn and the low-end studios relative to my luxury high rise knowledge.
Brokers ensure their deals close while keeping their clients happy and informed throughout the entire transaction process.  In my experience it's pretty obvious by closing whether the co-broker was good or sucked.  Unfortunately for the good ones, real estate commissions cap out at 6% for sales and 15% for rentals.  How do they do the equivalent of raising their rates?  Easy, they just reject clients who seek lower priced transactions.
Hilariously, the public actually thinks the opposite.  "Why should a Realtor get $60K selling a $1M house for doing the same exact work as a Realtor who gets $12K selling a $200K house?"  Well, the answer is they are clearly two very different Realtors.  One is a veteran consultant charging $500 an hour, and the other is an entry-level player building credibility at $100 an hour.
Posted in
Rent Hop News
on November 10th, 2010 by Lee –
Be the first to comment
Most landlords decide to add incentives to reduce their vacancy rates as we head into the Winter season.  After all, most rational people try to avoid moving in the cold  weather, around holiday season.   Even many brokers decide to stop working or reduce their hours once the peak March to October rental season ends.   Still, for those who have no choice but to do a Winter relocation (or the clever ones who try to stay off peak cycle), there are usually plenty of deals to go around!
Unfortunately, New York City real estate is in a strange situation right now, where landlords are cautiously optimistic that the local economy is rebounding and the sudden lack of spending propensity in the past two years is finally reversing course.  What we're seeing is that higher end, modern luxury buildings are piling on the incentives, as evidenced by the previous post regarding 505 West 37th.  At the more competitively priced end of the spectrum, we are actually seeing cutbacks, despite being in roughly the same neighborhood.  The Vogue at 990 Avenue of the Americas reduced OPs earlier this year, and just today, Herald Towers sent this OP reduction to their brokerage network.
Stay tuned as we move deeper into the off-peak season.  As always, we try our best to stay up-to-date on the latest New York Apartment deals and incentives around the city.
Posted in
Rent Hop News
on November 6th, 2010 by Lee –
Be the first to comment
Wow, I saw this while glancing through my inbox yesterday.  505 West 37th is offering 2 months free + 2 months OP!!  That's 4/14 months of discount off the gross from the landlord's point of view!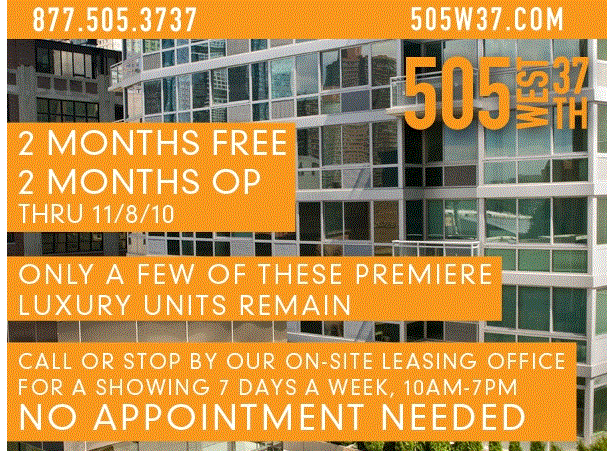 There are a few interesting ways to play this deal.  If you are a broker, do you try advertising the open listings with 3 months free as a net effective, hoping to fold half your OP into the rent during the negotiation process?
If you are a renter, do you walk into the leasing office demanding 3 months free?  Better yet, can you find a licensed broker to be your roommate, and then you all get the full 4 months free??  Note that not all buildings by this management company are offering such a great deal.  I believe 2 Gold is still at 1 month free + 1 month OP.  Still, after gathering data from the past three years, we're pretty sure November is the magic sweet spot for moving, if you can somehow sync your schedule accordingly.
Posted in
Rent Hop News
on October 9th, 2010 by lawrence –
Be the first to comment
Breaking the Lease?
Have you or one of your friends ever been in this situation? You signed a 12-month lease 3 months ago. All of a sudden, your roommate bails or you're forced to relocate. Can you break your lease without repercussions? The short answer is – no.  However, there are ways to mitigate the damage. First, let's take a general look what you or the landlord can / cannot do. NOTE, however, that we at RentHop.com are not lawyers, nor are we giving legal advice. Be sure to do your own due diligence or contact a legal representative with any questions. In general, though, a lease cannot be broken by either landlord or renter (unless expressly written into the lease).
The landlord's rights:
The renter cannot break the lease unless the landlord agrees. An interesting tidbit goes with this. If the renter happens to die, their inheritors need to assume the lease.
In general, you cannot assign a lease to another person. In an assignment, the new tenant assumes most (if not all) of the responsibilities of the original tenant. Assignments differ from sublets. In a sublet, the original tenant is still liable to the landlord.
If the renter "breaks" the lease by abandoning the property, the landlord can rent the property out again or take possession of the contents.
If the renter refuses to pay, the landlord can take the renter to court.
For a building with > 4 units, a landlord can reject a sublet with reasonable grounds. However, a landlord cannot reject a sublet on unreasonable grounds (for example, because of racial discrimination).
The renter's rights:
Under most circumstances, the tenant can sublet his apartment (as long as he is liable for the lease if the sublessee defaults).
The landlord cannot break the lease or change the rent for the duration of the lease.
If the property changes hands, the new property owner needs to honor the lease.
If a renter abandons a property and the landlord manages to find a new tenant. The landlord cannot collect rent from both tenants.
Given these nuggets of information, being locked into a lease may seem unfair. But the lease is binding on both sides. You wouldn't want the landlord to kick your out on a whim right? Nor would you want to be out on the street because a property changed hands. So what can you do if you need to move out before your lease ends?
I'm in one of these situations – what can I do?
Read your lease and rider very closely to see if you are given any additional rights.
Speak with the landlord!
Some landlords are friendlier than others and may be willing to let you break the lease. For example, rents may have risen dramatically, and the landlord will benefit if he can find a renter quickly. In the depths of the recession in 2008, some landlords even had special clauses that let tenants break their leases should they lose their jobs.
Otherwise, if you can find a new tenant, the landlord might be willing to let you assign the lease (provided – of course – that the rents you're paying are the same).
In general, unless you're subletting from a co-op, you can sublet the apartment.
Some landlords may be willing to help you find a new tenant. In this case though, you're liable for the lease if they don't find one (risky option).
How do I sublet my apartment?
The time of year, the remaining term of the lease, and the market rent vs the lease rent will affect your ability to sublet your apartment. Finding a tenant in the winter will be more difficult than during the prime June/July/August months. In addition, if the market rent is lower than your contract rent, you may lose money if you choose to rent out the apartment below your contract rent (but this is still way better than letting your unit sit idle). To get a good sense of where you want to price your apartment, check out the listings on RentHop.com for your location/size. To advertise your listing, definitely post on RentHop as well as craigslist.
For further reading, take a look at the tenant's rights guide on the Housing and Urban Development site.
---