Landlords Experimenting with Incentive Reductions
Goldfarb announced today that starting next week, they will stop paying OPs (broker fees).  Along with the Brodsky "1M free or 1M OP" policy and steady incentive reductions from Stonehenge, this latest news significantly reduces the no fee luxury highrise options in the Midtown West and Columbus Circle area.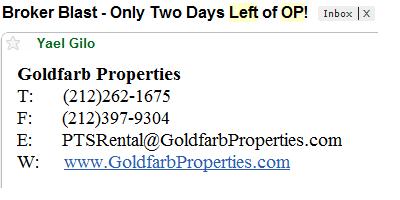 Even landlords in Financial District and Battery Park City, the incentive powerhouse neighborhoods since the 2008 recession, have begun experimenting with reductions.  Solaire and Verdesian, the flagship Albanese properties in BPC, have hiked up rents and stopped giving renters one month free (they will still pay broker fees).  Metro Loft NYC, which manages The Crest (67 Wall) and 17 John, have scaled back their free rent offerings across the board.  Tenants last year scored 3 months free on an 18 month lease or 2 months free on 14 months.  Although Metro Loft is still one of the most generous in all of FiDi, their latest blasts offer only 1 month on 13 months, or 2 months on 18 months (they still pay broker fees in addition to the free rent).
We always knew this was coming.  Landlords spent the last two years adapting to the Manhattan housing downturn and are constantly on the lookout for an end to the longest renters' market since 2001.  However, this is not necessarily the end of the good times for renters.  Around this time last year, we saw the same experimental reductions from a number of landlords.  After a few weeks of long vacancies and little traction, the landlords eventually gave up and joined the bandwagon of OPs, free rent, and other giveaways.
This time may be different.  Barring the last few weeks of EUR related jitters, the S&P 500 was 30% higher this year compared to early May last year.  Manhattan housing sales from the first quarter of 2010 were double 2009, and the job market for financial professionals is making a healthy rebound.  Also, the sheer number and breadth of landlords betting for a rental rebound is much higher this Summer.  Instead of a few brave pioneers attempting to go against the free rent grain, we are seeing several popular, multi-building landlords pulling back their incentives, allowing them to avoid the prisoners' dilemma problem.  If some landlords are paying broker fees and others are not, the brokers will take all their clients to the OP-paying landlords.  However, if a large group of major landlords all cease their incentives simultaneously, brokers have no choice but to take their clients to collect-your-own-fee landlords.
Whether we are truly at the end of a total no-fee Manhattan remains to be seen.  Check back on our deals page as we update the latest offerings in the RentHop NYC Apartment Rental deals section.